Honestly speaking, coordinating and planning weddings can be both stressful and overwhelming at times. However, the thought that you have hired the perfect wedding transport that suits all your guests' needs should have your mind at peace. For the groom and bride, it's an extra security for the logistics and program. For all your guests, it should come as a big and lovely surprise having them assured of safe transport from their pick-up location to the drop point. We are all aware of how important a wedding day is. We are also aware how much work is usually done in preparation for that particular day. Now, who said that you have to worry about your guests' transport come this day?
Wedding Transportation Services
Are you located in Winston Salem, NC? If you are then let Oasis Charter Bus take care of your guests' transport, so you can focus on the rest. Smile all the way to the wedding venue knowing all your guests will get there on time, safe and smiling too! Being one of the best companies offering safe wedding bus rental in North Carolina, we believe in offering the best.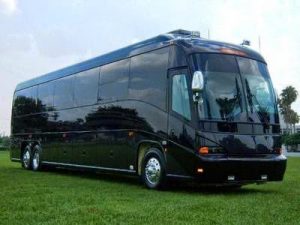 No matter how many guests you have in attendance, a wedding is a fun event that requires a specific kind of transportation. Oasis Charter Bus offers chartered buses for rental to get your friends, family and all your guests at any wedding event in North Carolina. We have professional account executives for bus rental services who are ready to work with you or your event organizer in ensuring that all your transportation needs for that special day are well catered for. Whether you are looking for an after-ceremony party bus or a bigger bus to ferry all your guests to and from the reception, you need not worry because as Oasis Charter bus has you covered! We also rent school buses for those interested!
Shuttle Bus for the Reception
Now, the last thing the bride and groom should have to worry about is the late arrival of the guests or rather attending party. We have friendly, well-trained bus drivers that are guaranteed to dedicate that whole day to only you. Yes, that is amazing. All our drivers will do their very best to ensure that the party being transported arrive safely and on-time to every single venue. We are proud and happy that we have all kinds of buses that should cater for any and all your transportation needs. From modern buses with VIP equipment to basic buses for safe transport, we got you covered. Upon request, we can also help you decorate the bus in question to perfectly suit your styling.
Finally, you shouldn't also have to worry about pricing. At Oasis Charter Bus Winston Salem, our prices are both competitive and affordable. If you need a quote of around or one-way trip, don't hassle, get in touch and our friendly and highly professional staff will ensure that you get the help you want. In case of more complex itineraries, we have well-trained expert agents ready to assist. The affordable rates we offer will ensure that you don't fall out of your budget. So, for all your wedding bus rental needs in Winston Salem, North Carolina, don't hesitate to get in contact with Oasis Charter Bus!